Contact the leader
A sort of tea dance at coffee time!
I will provide recorded music for people to dance to for this weekly session and if you haven't danced for a while – or ever – I'll provide some tuition to at least get you started
We'll tackle the basic steps in Social Foxtrot, Rumba, Cha Cha, Jive, Quick Step, Tango, Waltz and Samba so that you will have a short sequence of steps to use at a social dance.
Every session we finish with a sequence of dances for the last 15 minutes or so for you to practise. You'll find plenty of videos on You Tube to help you with the steps but please do ask about these as sometimes just starting a sequence from a different point can make a step look very different from what we've done in class.
The purpose of the these sessions is primarily to have some fun and get some exercise and you would be very welcome to join the group at any time during the U3A year.
We have previously taken the group to a tea dance in Bournemouth and we can arrange this again if members of the group are interested.
Please make sure that you note my email address - from the register – so that you can contact me if you are going to miss a session and that I have your email address in case I have to change things at the last minute.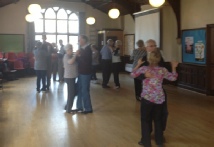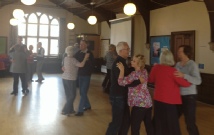 Picture Gallery
Group resources
Click on [Picture Gallery] to see photographs of the group at a recent tea dance in Bournemouth!
Click on [Group resources] for information about the various dance styles