Contact the leader

The course will run over a period of 5 (almost) consecutive weeks. Since it is developmental (culminating in the creation and presentation of a series of photos), attendance at all sessions is desirable.
The course will show you basic features of iPhones, how to tweak settings, the various formats for taking photos, transferring to your Mac, editing photos and creating albums and much more.
The main areas covered will be the following:
• Basic features of the iPhone Camera (slight variations, dependant on model);
• Formats for taking photos - and relevance of these to particular circumstances;
• Tweaks to settings for camera;
• Editing options on phone;
• Transferring photos to Mac;
• Where the photos go;
• Editing photos in Mac software;
• Creation of an album or slideshow.
Please note: Attendees will need to own both an iPhone and Mac computer.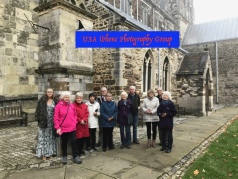 This group is not meeting in the summer, but should restart in the autumn